On-Grid or Grid-Tie solar power system, the most common system installed in the world, is a semi-autonomous electrical generation links to the grid. 
This is the simplest system and the cheapest to set up. The goal is to install the right size system and align your load as much as possible to the solar output so that you minimise your imported power and maximise consumption of your solar generated power, meaning you can see the greatest return on your investment through savings on electricity bills.
How it works
Through day time solar panels turn sunlight into Direct Current (DC) electricity.
An inverter then converts the DC electricity to Alternating Current (AC) electricity and sends it to your Distribution Panel where you use it for all your household electrical load.
When the panels are generating more than is being used, the excess electricity is sent into the grid. During high load demand and at night when the panels are not generating, electricity from the grid is used.
The inverter controls the flow of electricity so that the power from the solar panels is always used in priority over the grid.
However if there is a power cut during the day, the system won't work too.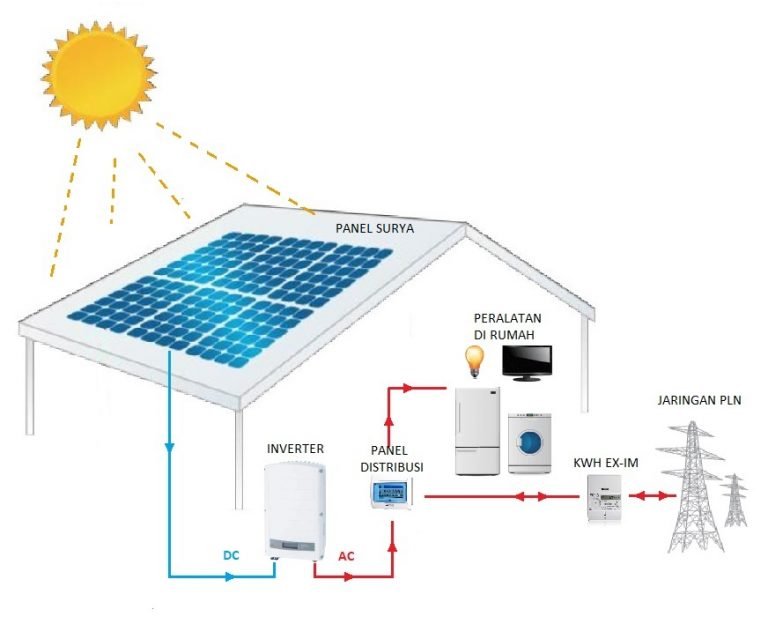 Rooftop Solar On-Grid <200 kVA
Solar power system installed on the rooftop of home, shophouse, commercial and factory buildings up to size of 200 kVA
Large Industrial, Commercial & Utility Scale Solar Power Plant
SUNERGI offer EPC (Engineering, Procurement and Construction) service for Solar Power Plant project.
Export your electricity to PLN and slash your bill
For Rooftop On-Grid and Hybrid System by having EX-IM Metering allows you to sell the excess solar electricity you produce to PLN in the form of credits. 
Credits can be used to reduce your current and future electricity bills
How to get EX-IM Metering
Do not worry, we will assist you thru the process
Contact your PLN area and fill up the application form. You will need to submit some documents related to your solar system installation
Upon approval PLN will install or replace the old KWH Meter to EX-IM Meter
Start enjoying the benefits of EX-IM Metering
Using quality components makes a big difference
There are so many different products available in the market, how do you know what is good, bad, or best suited to your particular situation? 
Even not all 'Tier-1' solar panels are equal; major differences in quality can be found even among 'Tier-1' panels.
SUNERGI continually research the solar technology market and understand the differences and importance of various specifications that affect how your system will perform and last. 
All of our products have market leading warranties. 
We are the official supply partner of HANWHA Q.CELLS, TOSHIBA, KYOCERA, IMEON ENERGY, HUAWEI and other products we sell so you can have confidence in the warranties.